Verano Azul (Blue Summer) is a beautiful example of how happy kids can be when they play freely in nature in a healthy way during the summer holiday.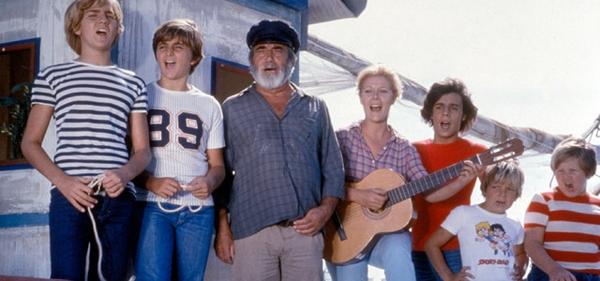 Singing "No nos moverán" on sailor ship. Source: @tve_tve
The idol (El ídolo) - Episode 15
I enjoyed very much this episode. It's about a singer, fans, fame and being oneself.
Watching this old tv series again is such a happiness... And this episode is all great. I'd love it had subs in English... It's about a super popular singer that comes with TV to the village to film some videos surrounded by fans. The two girls of the friends group are very excited, as one has even the poster hang on her room wall. The boys feel just curious and also excited TV is coming. The singer looks unhappy and fed up of all those "hired" fans, his manager just think of business. Sailor man doesn't know him as doesn't have any TV or radio set.
During the filming of a video, the singer falls in the sea, but can't swim and the boys rescue him. "Journalist" of singer team publishes a fake story saying that the singer rescued one of the boys.
That same singer participated, with his true name, on a popular music festival (video)
Shall we not be moved (No nos moverán) - Episode 17
A real estate wanna build lots of flats towers at the coast village. The sailor man doesn't wanna sell his ship-house, despite he's been offered a large amount of money. The village shop men accuse him of egoist, because he's not accepting a "social" use of property. The unscrupulous "brick" men try to bully him by putting wires around the ship and, later, by taking machines to his property, despite a welcome ban of building high buildings. The sailor man doesn't wanna use gun violence as his barman friend suggests. The group of friends defend the ship with music.
This episode shows us how with just a guitar and a song we can build for Peace. The first time I listened the song "No nos moverán" was thanks to this tv series. Just a few years ago I knew it was a popular song by Joan Baez (video).
Moments singing "No nos moverán": video (with sailor man on ship), video (when the machines start destroying the tomato plants around the ship). The girls of the group don't appear on the songs.
Other episodes I like
- The meeting (El encuentro)
- Episode 1. Watch on rtve
- Do not kill my planet please (No matéis mi planeta por favor)- Episode 2.
Watch on rtve. Beach pollution.
- Pancho Panza - Episode 3.
Watch on rtve. Sancho Panza: Don Quixote's faithful adventures pal. Paella.
- Beatriz mon amour
- Episode 7.
Watch on rtve. Funny scene in a summer cinema with Doris Day's song.
- The cave of the green cat (La cueva del gato verde)
- Episode 10.
Watch on rtve. Trip to find a cave of a green cat, they actually discover another one. Not missing kite thread...
- The bottles (las botellas) - Episode 11.
Watch on rtve. Mysterious bottles appear with love messages at the beach. The importance of forgiveness and reconcile.